Course details
【Sun - Thursday Limited】 Super Special price 10 items & Loose 180 minutes for drinks on weekdays All you can drink 5000 yen ⇒ 3600 yen "Plum course"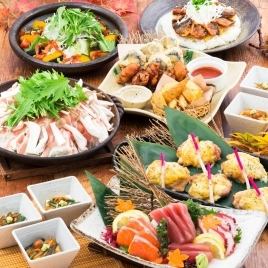 By using a coupon3600 yen
(tax included)
All-you-can-drink available

● All-you-can-drink all-you-can-eat for 3 hours ● Additional +400 yen (tax included) with special selection of wine as well ♪
Reservation deadline

2 days before the desired store date until 23 o'clock
Available days for reservation

Monday - Sunday - Public holidays - Holidays
Courses with 10 dishes and 180 minutes of unlimited drinks available on sunday - Thursday limited service price are available at super special price !! ※ Special plan for other plan ※ other tickets can not be used with other services ※ December 30 not available ※ All day available after January
Course menu
Edamame
■ Shrimp cracker
■ Today's Carpaccio
■ Today's salad
■ Three kinds of deep-fried food of the day
■ 3 Yuan pig's purity salt pot
Grilled young chicken with tomato cheese
Udon noodles
※ The content of all-you-can-drink products will be subject to change in some products, depending on the purchase situation
[Banquet Satisfaction Declaration]
At our shop, we are actively working on providing the banquet that you can think that "I'm glad you did" to the secretary.We offer excitement and surprise along with course food of good quality material which can not be tasted in other stores.We will support you with full support so that everyone participating, including secretaries, will be satisfied."Happy to everyone involved!" This is "Kuonomano shop."◆ Gold Credentials <Free>
Let's honor those who worked and people who shine!
◆ "Today's leading role" loan <Free>
Classic goods that pull the leading role:
◆ Colored paper service & pen rent <Free>
Necessities for farewell party.Let's have everyone write about.◆ Banner with bamboo <Free>
I will prepare a banner with the name of the protagonist.Let 's greatly extend the message and celebrate it grandly!
◆ Hole cake <1500 yen (tax included)> ※ reservation is required 2 days in advance
Let's have exciting surprise cake for celebrations and events!
Message Please feel free to contact us!
◆ Japanese sake bottle with name <1800 yen (tax included)> ※ reservation is required 2 days in advance
Let's surprise the leading role with name bottle!
We will give you the label with the printed name of the protagonist.◆ Bouquet substitution service <Payment> ※ Reservation required 2 days in advance
We will prepare flowers instead of customers.Flowers will arrive at your shop on the day you request.Please use it freely welcome party · anniversary.
All-you-can-drink menu
·beer
· Kirin's best squeeze (※ All you can drink is served at the pitcher.) / Kirin Zero Ichi (non alcoholic beer taste beverage)
·Highball
· Jim Beam Collar & Lymon / Jim Beam Ginger & Lime / Jim Beam Apple / Jim Beam Muscat / Jim Beam Yuzu · Honey / Jim Beam Bitter Lemon / Gym Beam Grapefruit / Horn High Ball
· Whiskey (rock · water split · hot water split · soda split)
· Square bottle (S · W) / gym beam (S · W)
· Fruit wine (rock or soda)
· Plum wine / apricot sake / giant wine sake
·sour
· Lemon Sour / Grapefruit Sour / Bitter Lemon Sour (Italian) / Lemon Tomato Sour / Sour Blueberry Sour / Black Vinegar Sour / Blood Orange Sour / Calpis Sour / Tsugaru Ringo Sour / Yuzu · Honey Sour
· Shochu cracking
· Oolong tea split / tomato juice split / gyokuro crush
· Sake (hot or cold)
· «Myoko sake brewery» Miyakozan sake (small 徳 利 or 大 富利)
· Shochu (rock · water split · hot water split · soda cracker)
· There is no «potato» (glass · 2 half) / barley »pearly mushroom (grass · 2 half stones) /« Kappa ».(2 / half) / [bottle set] cut lemon / hot water / splash water / carbonated water / ice / oolong tea / gyokuro / grapefruit juice / orange juice / ginger ale
·Cocktail
· [Beer Base] Shandigafu / Red Eye 【Gin Base】 Gin Tonic / Jim Buck 【Vodka Base】 Vodka Tonic / Moscow Bule / Bulldog 【Cassis Base】 Cassis Yogurt / Cassis Soda / Cassis Oolong / Cassis Orange
·Cocktail
· 【Grapefruit base】 Gureful tonic / gureful back 【Peach base】 Peach yoghurt / fuzzy group / reggae punch 【rum base】 rum cola / rum ginger / lamb orange 【milk cocktail】 karoa milk / strawberry milk
· Wine (glass · decanter)
· House wine white (slightly dry) / house wine red (light body) / Kokubaru wine red / crunchy wine white
· Non alcoholic cocktail ※ It is not alcohol.
· Non Alexandria squash / NonBB (blueberry) Chocolate latte / Non Alphonso yoghurt / Non10 item Green Nectar / Non Blueberry Milk / Non Yogurberdy / Non Black Vinegar Honey Resca / Non Queen Orange / Non Plum Ginger / Non Tsugar apple yogurt / Non Pamplle Mintia
·Soft drink
· Pepsi cola / ginger ale / rich chocolat (cold or warm) / Yuzu Aid (Mao or warm) / Orange Juice (100%) / Grapefruit juice (100%) / Calpis Water / Calpis Soda / Tomato Juice (100 %) / Gyokuro (cold or warm) / oolong tea (cold or warm)
· ★ All-you-can-drink premium + 400 yen
· Premium luxury sour / premium sake / premium shochu / premium cocktail / premium sangria / premium fruit liquor / premium highballs as well ♪ All you can drink All usual drinks including all you can enjoy 123 kinds!
Coupons that can be used with this course
2018/12/13 update